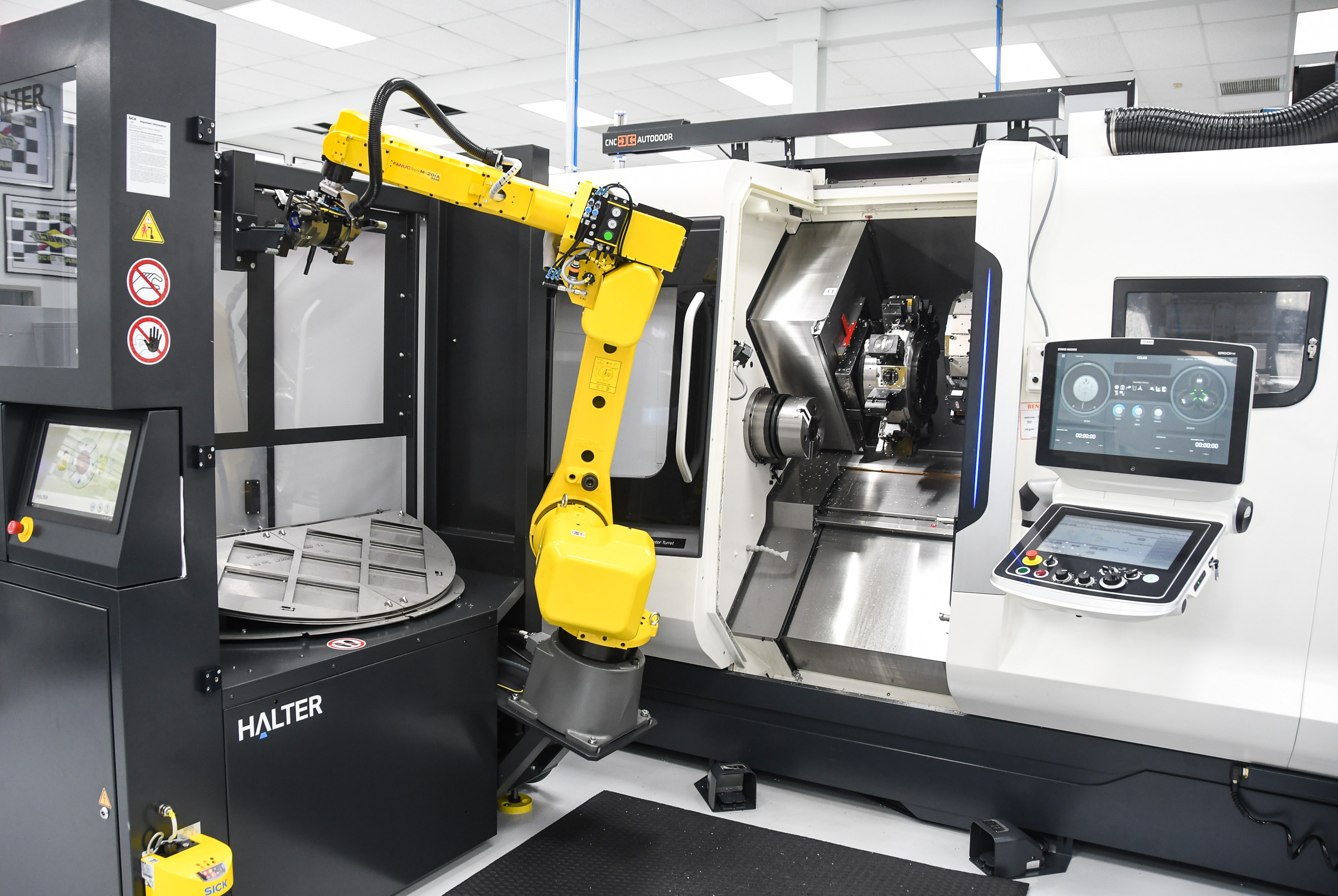 23 Sep

FOURTH QUARTER OPEN CAPACITY

Roush Yates Manufacturing Solutions installed additional automated equipment and robotics during the 2nd quarter of 2021 to meet growing demand. In addition to Halter Robotics and (4) Erowa Robot easy automatic loaders, 3 powerhouse DA300 and 2 F5 Makinos were fully installed and commissioned. Through the increase of automation and robotics, we have immediate open capacity to address manufacturing needs for the 4th quarter of 2021.

Utilizing the latest painting and coating equipment, our team delivers painted parts to customer's unique specifications. With two paint booths on site for different design and specialties, our professionally trained and certified painting and coating specialists can accommodate every kind of paint and coating project. To ensure a flawless finish, our team uses CAD and an in-house vinyl cutter to produce custom masking. The ability to design and cut custom masking allows us to paint complex and intricate parts efficiently. With our versatile pad printing technology efficiently personalized product identification is achieved.

The team at Roush Yates Manufacturing Solutions (RYMS) has the experience, expertise, and in-house capabilities to provide mechanical and electromechanical assembly. Our services range from simple to complex production, with projects delivered on a turnkey basis if needed.

• RYMS can assist in overall design, prototype, and production
• RYMS can machine, paint, and assemble
• RYMS can provide complete testing services
• RYMS can provide production serialization, packaging, kitting, warehousing, and shipping

The waterjet allows the flexibility to cut, drill, strip or mill all on the same machine, cutting down on set up time and allowing for an uninterrupted flow of production. The capabilities of the waterjet open up our machining footprint to accommodate a wide variety of materials and various sized projects.

Because of no HAZ (heat affected zone), components are able to be produced to within +/-0.0015" accuracy. This improves the overall quality of components and provides a repeatability of +/- 0.001".

Works with:
Steel
Titanium
Aluminum
Composite Material
Plastics
Carbon Fiber
Tool Steel
Brass
Fiberglass
For machining opportunities in the aerospace, defense, medical or industrial sectors, please visit www.roushyatesmfg.com or contact our team at rymssales@roushyates.com.
About Roush Yates Manufacturing Solutions:
Roush Yates Engines was formed in 2003 by Robert Yates, Jack Roush, and Doug Yates with the leadership of Ford Motor Company to create a world-class race engine company that would compete at the highest levels of the Motorsports Industry.
Out of the passion for power and performance excellence, Roush Yates Manufacturing Solutions was formed.  Roush Yates Manufacturing Solutions machines high performance engine components to support engine design, development, and production. Although rooted in motorsports and automotive industries, Roush Yates Manufacturing Solutions has leveraged their passion for CNC manufacturing excellence into machining components for the aerospace, defense, medical, industrial, and automotive industries.
We have created a world-class facility, staffed by a diversified professional team from the aerospace, defense, motorsports, power generation, and industrial sectors from around the United States.
Our dedication to quality is exhibited by our commitment to AS9100 REV D/ ISO 13485 certification and ITAR registration standards. This is paramount to our continued success and growth.