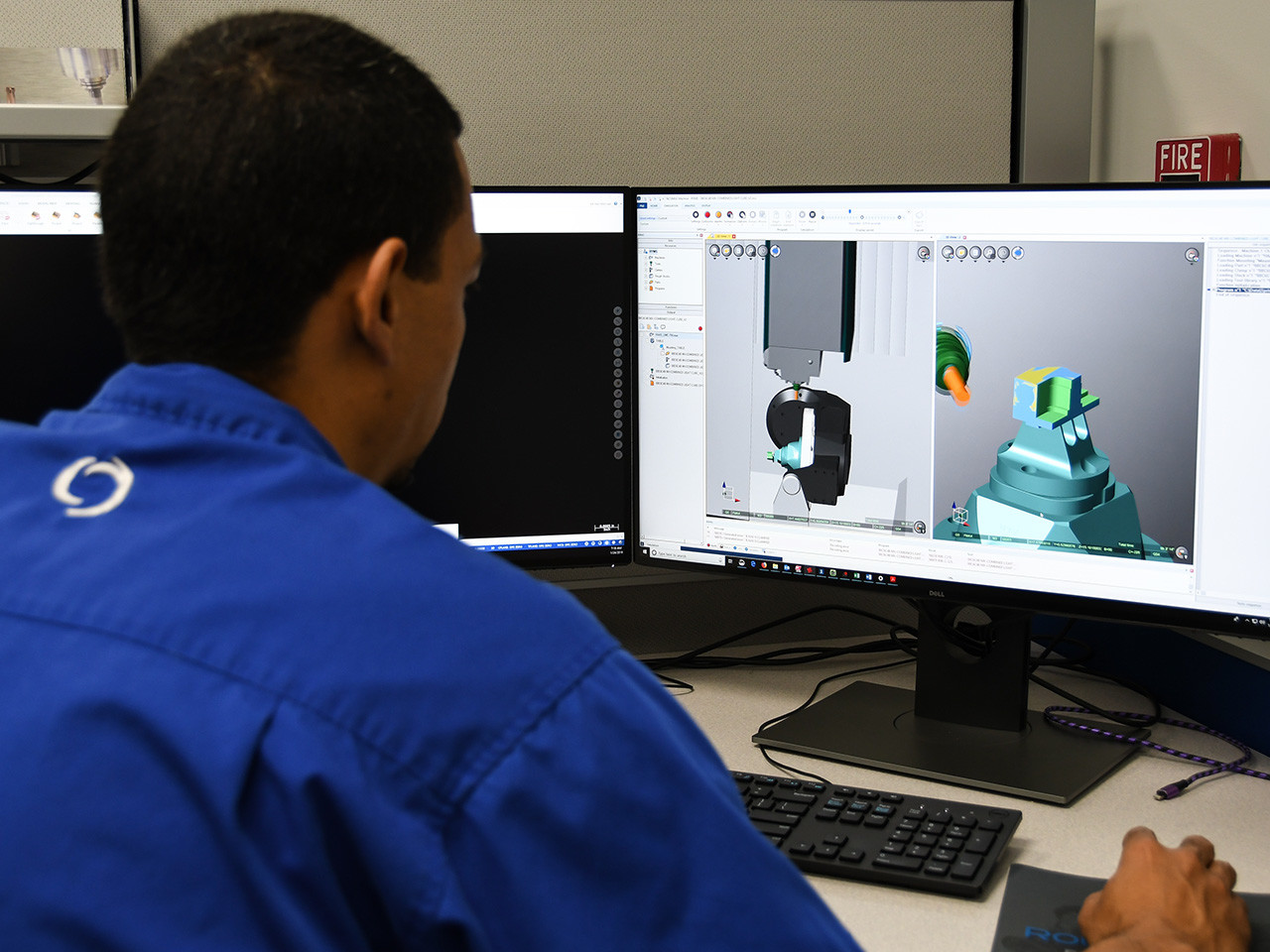 24 Jan

IS CNC PROGRAMMING THE RIGHT CAREER FOR YOU?

Ever thought about becoming a CNC programmer?

Life as a CNC programmer can be an exciting and rewarding path for those who love to create and have an eye for detail. This is a growing field filled with opportunities for those trained to work on complex CNC machines.

If you're trying to determine whether or not CNC programming is the career for you, you've come to the right place. Follow along as we share some important information about this career—including job responsibilities, work environment, career outlook and more!
WHAT IS CNC PROGRAMMING?
In basic terms, computer numerical control (CNC) programming is the process used to create program instructions for computers to control a CNC machine and tooling. CNC machines turn a digital file into a sequence of computer instructions, which are then sent to a motorized tool such as a mill, router, grinder or lathe. These tools cut and shape various material types with great precision, into a finished product.
What Industries Use CNC Machinery?
CNC machining plays an important role across a wide variety of industries. According to Todd English, VP of Business Development and Partner Relations for Roush Yates Engines, some core industries that utilize CNC machining include:
Automotive & Racing: CNC machining can be used to machine engine parts such as cylinder heads, valve train components, pulleys, brackets, automotive interior and exterior components, suspension components, fluid system components and much more.
Defense: Products used by the military must follow specific government regulations, which is where CNC machining, precision and consistency, comes into play. Defense parts are often used for aircraft components, missile components and communication components.
Medical: CNC machines are used to create customized parts for the medical industry, including MRI machines, orthotic devices, research equipment and medical instruments.
Aerospace: Parts made for the aerospace industry must meet the highest caliber of requirements. CNC machining is used to create several components of aircraft, such as engine components, electrical connectors, landing gear parts, sensors, seating and airframe components.
Power Generation: The power generation industry utilizes a wide variety of components that are created through the CNC machining process, such as cooling blades, inlet vanes, rotary support devices and much more.
The use of CNC machinery extends far beyond just these five industries. Others include oil and gas, industrial, electronics and even the marine industry. Many of the high-tech tools our world relies on today were created through the process of CNC machining, such as 3D printers.
WHAT DOES A CNC PROGRAMMER DO?
CNC machines are incredibly complex, which requires skilled professionals to work on them.
Essentially, the role of a CNC programmer is to take a print or model of a particular component and determine how to best optimize the machining of this component. The programmer must take into account many factors; such as what machine to use, the proper tooling to cut the part and more. The programmer will take the part and bring it into a CAM software and apply tool paths to generate a G-code, which is the specific language the machine communicates from.
Todd shares that typically, when a design engineer or company comes to them, the only thing the programmers have to go off of is a model or a print, and they have to determine how to machine it out of a raw material or from a raw casting. This is a very intricate process that requires great attention to detail and an in-depth knowledge of G-code, CAM software and CAD software, which is used for design work. The parts programmers work on must meet very specific standards, so even fractions of a millimeter count.
For Ricky Strader, CNC programmer for Roush Yates Engines and Roush Yates Manufacturing Solutions, the most rewarding part of this career is being able to take a simple material and turn it into a complex part that is used by racecars, planes or even the military. Knowing he has played a role in this process brings him a great sense of accomplishment. "I take pride in what I do," he shares.
Additionally, Ricky shares that there are many benefits that come with working in this industry, including the opportunity to make a lot of great connections. "In the end, it's a really small industry when you look around," he says. The community is full of experts you can build relationships with and learn from as a programmer.
When it comes to challenges, Ricky shares that working in the field can be demanding at times. Some parts are very tough to make, which can be difficult. "It's a good challenge, but it can be demanding from a time standpoint. Sometimes, you have to put in more effort to figure out the process to make the parts," Ricky says.
The technological advancements of this industry can also bring challenges. Everything changes so fast, so it's important for programmers to stay immersed and keep their skills sharp. Otherwise, you can quickly fall behind.
Overall, the challenges that come with this industry are worth it, according to Ricky. "In the end, it's rewarding to be able to step back and see the end product," he says. The better your skills are, the more valuable you are to a company, which can lead to exciting opportunities.
CNC Programmer Job Description
The ability to understand blueprint readings, including GD&T symbols
Knowledge of tooling and different applications to apply
An understanding and familiarity with CNC machines, including how they work, special codes, machine limitations and the various settings you can change
The ability to look at a part, pre-process it and design workholding if necessary
Math skills
Documentation & technical writing: Ability to document the process so an operator can follow it
Experience working as an operator and a general knowledge of tooling, work-holding and different types of machines and equipment
Several years of hands-on job training (preferably working on machines)
CNC PROGRAMMER WORK ENVIRONMENT
The work environment of a CNC programmer can vary based on the specific industry they work in. However, most programmers spend a portion of their time in an office environment and some of their time on the machining floor, following their parts and proving out their process. Once this is complete, they may turn over the parts to production.
Ricky shares that on any given day, he may take a part, program it, and go out to set up the machine and run it. He spends some of his time in the office, but a good amount of his time is spent on the floor doing hands-on work. In addition to setting up and running the machines, he will oversee the process and inspect the first pieces to ensure everything is running smoothly.
The role of a CNC programmer is similar to that of a machinist, however a programmer will spend time doing their programming inside of a CAM software for complicated parts. Simple parts can be done at the machine, but most of the work a programmer does requires the use of software.
Documentation is a very important part of a programmer's job. Ricky will always document his process with set-up sheets so the project can be passed on to someone else the next time. This allows Ricky to free up his time to focus on more complex projects.
CNC PROGRAMMER JOB OUTLOOK
One of the most exciting aspects of pursuing a career in the CNC industry is the job outlook. Currently, there is a skills gap, which has led to a high demand for machinists and programmers. "So much is made with CNC machines, and there are so many industries you can get into," Ricky shares.
CNC machines are used around the world. This isn't an area-specific job, so there is a lot of flexibility when it comes to location. Whether you want to take your skills to the west coast, east coast or even another country, there will most likely be opportunities available to you.
According to Todd, technical schools like Universal Technical Institute are doing a great job of providing a pipeline of students who are ready to go into the industry. Many of these students go on to gain real-world experience working as machinists, which can open the door to advancing to a programmer role.
Todd goes on to share that automation has become a buzzword in the CNC industry. While we are seeing more and more automation thanks to technology, machinists and programmers are still needed. This is one of the many reasons it's so important for those working in the field to stay up to date with the latest technologies. "I think it's going to become more and more technical in the years to come," Todd says.
HOW TO BECOME A CNC PROGRAMMER
For those interested in becoming a CNC programmer, Ricky suggests making connections with those experienced in the field and asking a lot of questions. He encourages aspiring programmers to ask "why" questions to really get an understanding of the process. "If you don't ask, you won't learn," he says.
"Put yourself in a position where you're working with people with the right skillset who can help you become a programmer," Ricky continues. This industry is fast-paced, but he shares that he's always willing to stop and help others, because he's had a lot of people stop and help him over the years.
Becoming a programmer often requires a combination of training and on-the-job experience. A program like NASCAR Technical Institute's CNC Machining Technology program can provide you with a foundation of knowledge you can build upon as you go into the industry. Using industry-preferred tools and technology, students learn to craft sophisticated performance parts and components from raw materials.
Created in cooperation with Roush Yates Engines, this program gives students the opportunity to gain hands-on training and high-tech skills needed to prepare for a career as a CNC machinist. In just 36 weeks, students learn everything from reading blueprints and interpreting geometric dimensioning and tolerancing to the programming, setup and https://roushyates.com/operation of CNC lathes and mills.
"If there's training you can take advantage of, take advantage of it. It shows initiative," Ricky says. A successful career in this field requires going the extra mile, so always be willing to volunteer and help with projects when no one else is willing. Advancing to a programmer position requires hard work and oftentimes, years of experience working on the floor as a machinist. Becoming a programmer is a journey, but it's worth it in the end!
TIPS FOR SUCCESS
CNC programmers often share a similar set of traits, such as being detail-oriented, organized, creative and tech-savvy. According to Ricky, success in this industry requires an in-depth knowledge of tooling, machinery, applications and when to use what tool.
Additionally, it's important to stay in the know about the many changes that take place in the industry. "Keeping up with the technology in your field is very important. There are always new ways of doing things that you have to be open to," says Ricky.
Any successful CNC machinist or programmer will tell you that sitting back and relying on your training from when you first got hired isn't enough. This industry is constantly evolving, so taking the initiative to continue to grow your knowledge and skills is essential. According to Todd, "CNC machines are constantly changing. We like to leverage CNC manufacturers and software companies and bring their expertise to work with our employees so we can always stay ahead of the curve."
"If you don't keep up with all of the new technologies, you won't maximize your production. Everyone is looking to become more efficient at what we do," Todd continues.
Ricky knows the importance of showing initiative firsthand. Throughout his career, he has taken advantage of every training opportunity possible. He took online courses to familiarize himself with CAM  software and tooling and fixture design, which set him apart and showed that he wanted to become a programmer. He encourages those interested in this industry to go the extra mile—whether this means staying late to watch a programmer do their job or taking on an extra project.
INTERESTED IN THE CNC INDUSTRY?
Created in cooperation with Roush Yates, UTI's 36-week CNC Machining Technology program teaches you everything from reading blueprints and interpreting geometric dimensioning and tolerancing to the programming, setup and operation of CNC lathes and mills. To learn more, visit our program page and request information today.
*Courtesy of Universal Technical Institute / NASCAR Tech