19 Aug

ROUSH YATES MANUFACTURING SOLUTIONS MOVES TO PAPERLESS CNC MACHINING FACILITY WITH PROSHOP

Roush Yates Manufacturing Solutions announced today a new multi-year partnership with ProShop USA Inc.

Established in Bellingham, WA, ProShop's manufacturing enterprise software is a comprehensive paperless shop management system, engineered to benefit growing manufacturing companies. It's a system built by a manufacturer for manufacturers, especially with AS9100 certified companies in mind.

"With ProShop we have complete visibility of our products and operations from estimating to shipping, real time inspection reporting to reduce scrap and rework, and intuitive inventory control, so we spend more time cutting chips and less time waiting for tools," said Malcolm Pruitt, Manufacturing Planner, Roush Yates Manufacturing Solutions. "ProShop provides the reliability that today's industry demands."

"As we expanded into an 88,000 sq. ft. world-class facility with 50 CNC machines, it was important that we did things thoughtfully and with clear intention," commented Mitch Miller, VP of Manufacturing, Roush Yates Manufacturing Solutions. "We knew we needed a tool that could flex and scale as we grew and would be user friendly for our 50 plus employees to use throughout the plant. As we reviewed products and results, it was clear the best choice for our CNC manufacturing facility was ProShop."

ProShop is playing a vital role at Roush Yates Manufacturing Solutions (RYMS). RYMS is utilizing ProShop's vast experience and module-built Digital Manufacturing Eco System to help expand and connect our growing facility. The turn-key software brings the tools of ERP, MES, and QMS together to make one complete robust package.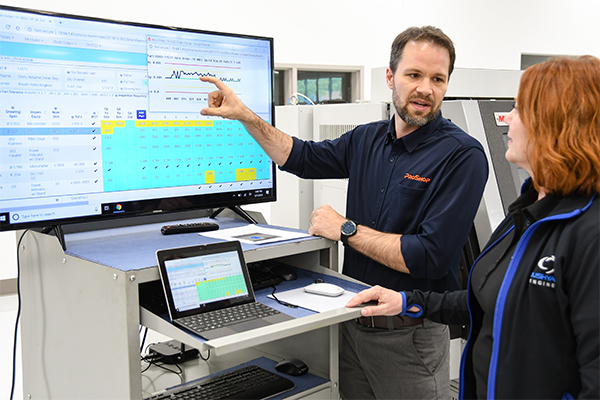 The ability to go paperless and have everything related to a specific work-order at your fingertips is priceless to RYMS's growing facility. As an ISO 9001 / AS9100 certified facility the ProShop system allows us to have everything in one location, regarding a particular work-order from pricing, quoting, list of tool operations and tooling to inventory, inspection data, shipping documentation, and accounts payable reports. This is vital for our growth and sustainability in today's business landscape.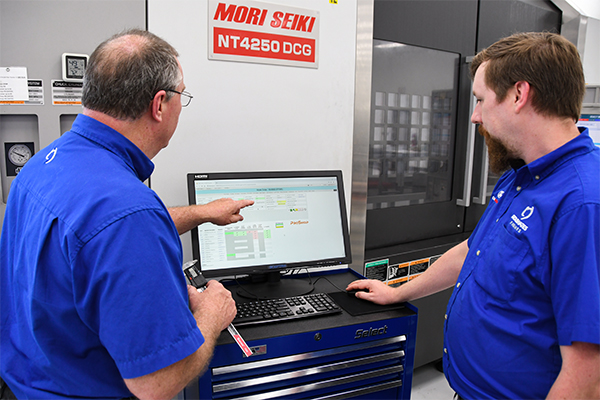 "What ProShop brings to the table is a proven competitive advantage in CNC manufacturing today," said Todd English, VP Business Development, Roush Yates Engines. "We look forward to growing our partnership with ProShop and leveraging their expertise to help us exceed our overall business goals."
​ "We're incredibly excited to partner with Roush Yates," commented Paul Van Metre, Founder of ProShop. "It was auto racing that got our team involved with the manufacturing industry more than 20 years ago, so to have an amazing and high-profile organization like Roush Yates Manufacturing Solutions (RYMS) chose ProShop is rewarding and humbling at the same time. We know that the lessons we learned about how to run a world-class paperless manufacturing operation and features we built into ProShop to achieve those goals will help RYMS take their world class facility to an even higher level. Their commitment to quality, exceptional customer service, their AS9100 requirements, and the high pressure and demanding nature of their business makes them a superb customer for ProShop's integrated ERP, QMS and MES functionality."
With a shared commitment of excellence and innovation to make our products the best while making scheduling and pricing transparent, ProShop and Roush Yates Manufacturing Solutions look forward to a long partnership together.
ProShop is the industry's only ERP system specifically dedicated to and built in a CNC machine shop. We are fanatical about managing every detail of your machine shop in a paperless and web-based environment, including the ERP functions necessary to run your office, the QMS functions to manage your ISO or AS9100 system, and the MES functions to ensure your shop floor is running at peak efficiency. From managing visual work instructions, drawing revisions, job-routings, cutting tools, FAI and In-process inspection, NCR generation, calibration, machine utilization, job-costing, and much more, it's all in ProShop and completely interconnected to every corner of your business. Leading shops know that going paperless and digital is the future for all machine shops. We've helped more shops go completely paperless than any other provider on the market. We live it and breathe every day, and it's our passion to help you improve your business.
To learn more about ProShop go to proshoperp.com.